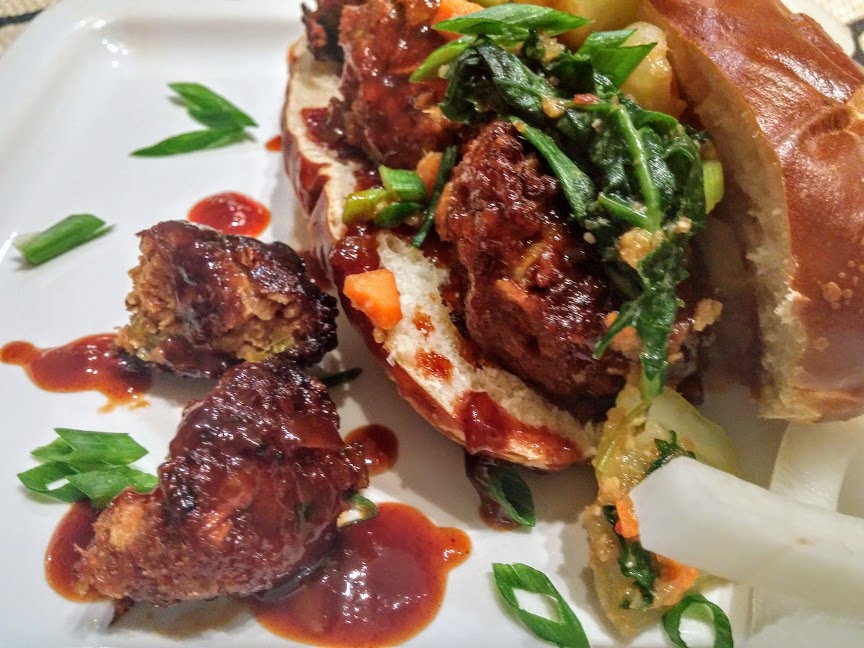 Normally, I make my own vegan burgers from scratch. Not that I'm a vegan snob or anything. It's just that: (1) I prefer knowing exactly what's in my burgers and (2) I've never found a commercially available vegan burger that I liked. That is until now. Last week my eyes were drawn to a new product in my local grocery store!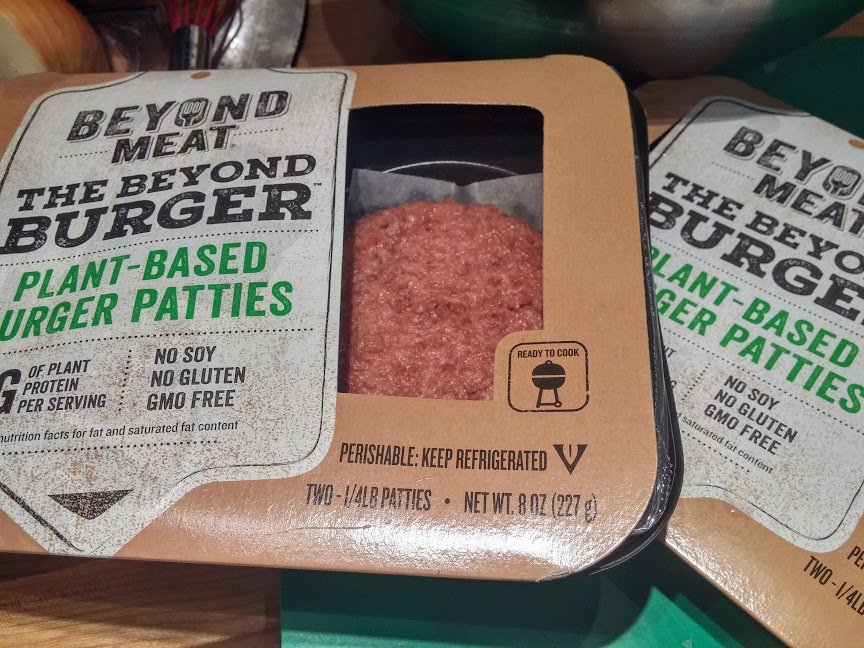 Maybe I just hadn't noticed but all of a sudden, I was seeing The Beyond Meat Beyond Burger everywhere. Always up to a challenge, I decided to give this product a try. At 20 grams of protein per serving, it had potential.
Initially, I tried this product with a simple grilled burger. It. Was. Banging.
But, as good as this Vegan burger was (I'm talking grilled onions, mushrooms, lettuce, tomatoes..the works) I wanted to try something with a little bit more finesse!
So, my At Meme's Table Family, I present to you the one, the only: Vegan Korean Barbeque Meatball Sandwich with Bootleg Kimchi!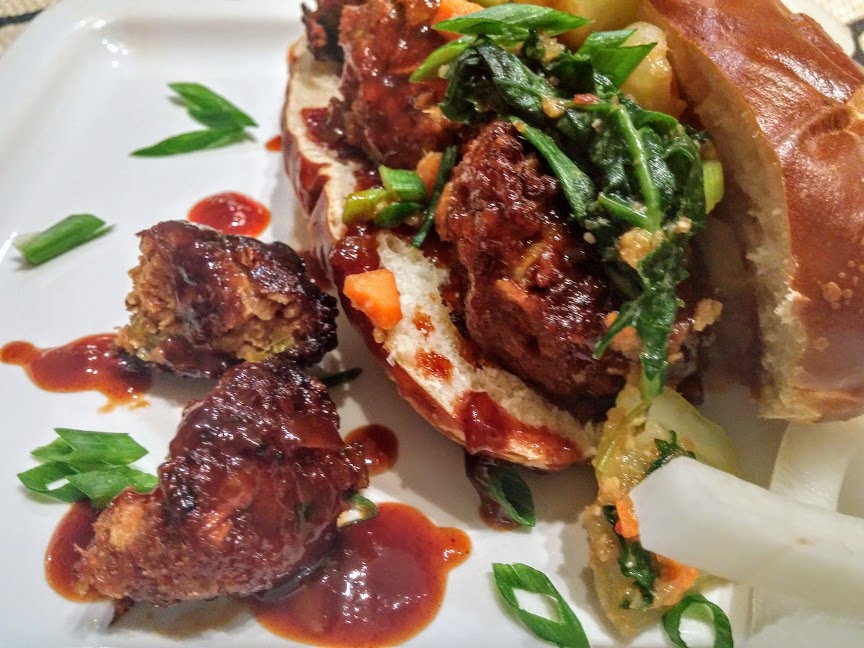 This sandwich is anything but pedestrian. I'm telling you, this sandwich doesn't play! It was so good that it had both me and my husband doing the happy food dance!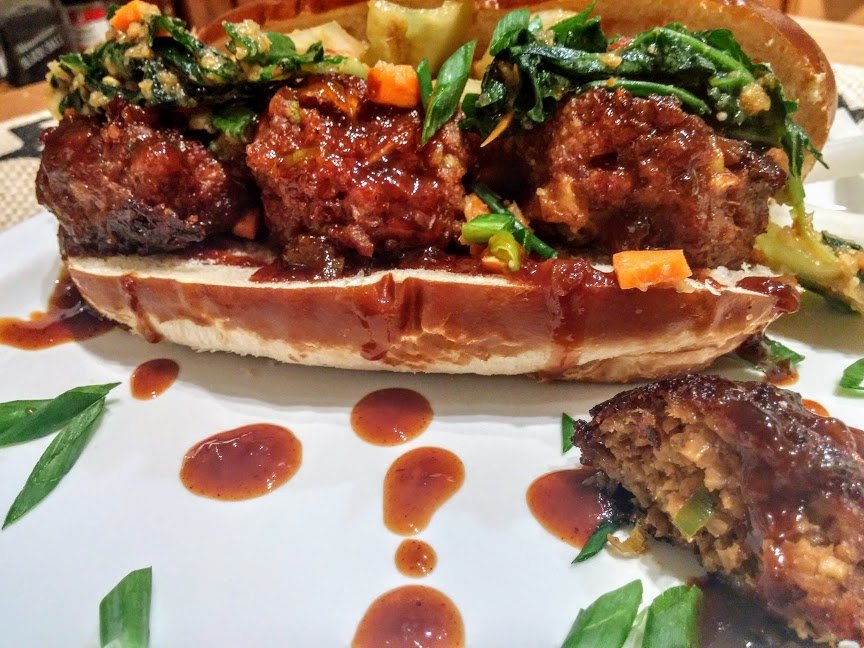 The meatballs are full of flavor, heat and just a hint of sweetness.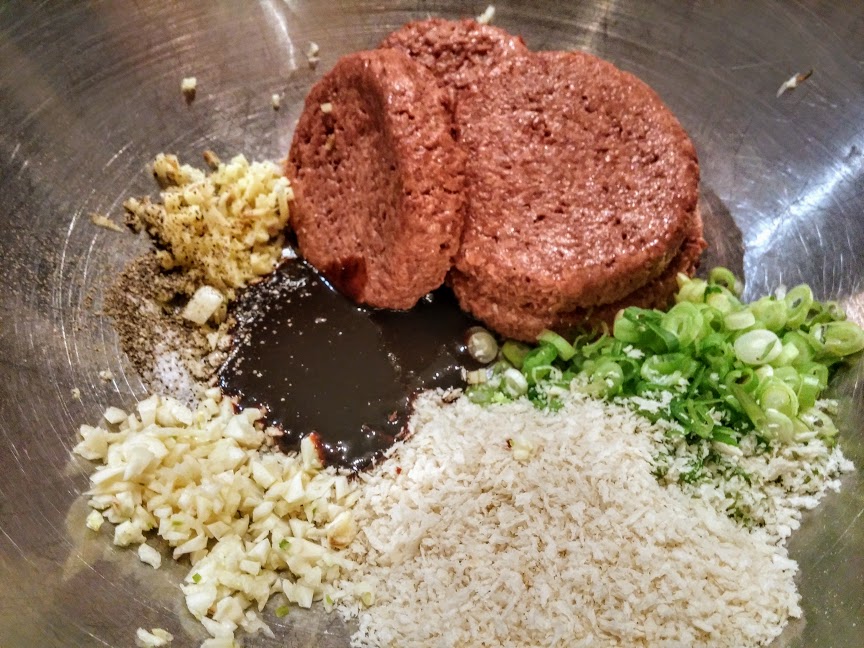 Green onions, garlic, flax meal, panko, Gochujang, ginger, and seasoning are combined with The Beyond Meat Beyond Burger patties.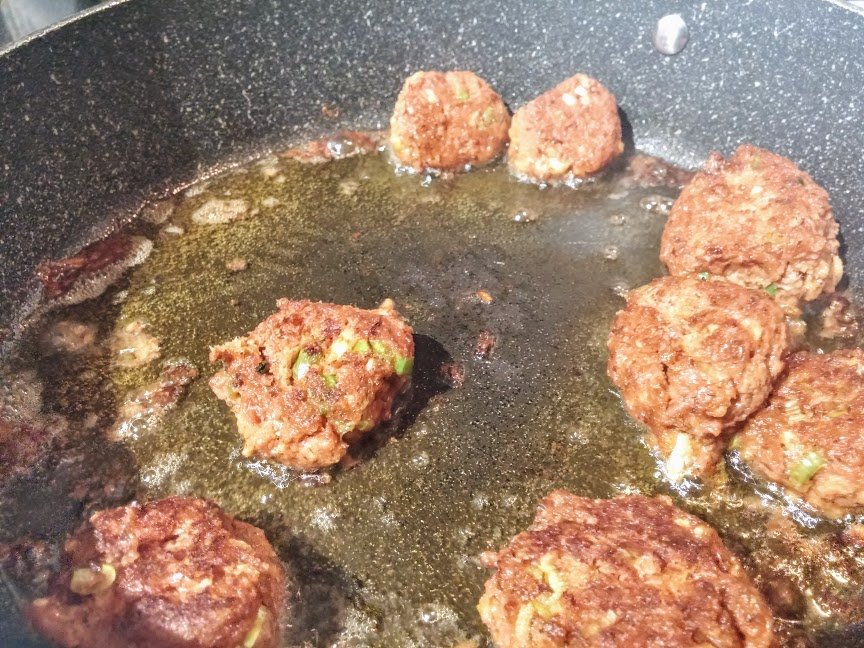 The meatballs are then lightly browned in a bit of organic canola oil (or your favorite oil). If you wish, just skip this step and the oil,cooking them completely in the oven. And then they finish cooking in the oven, after which, they are glazed with a Gochujang glaze.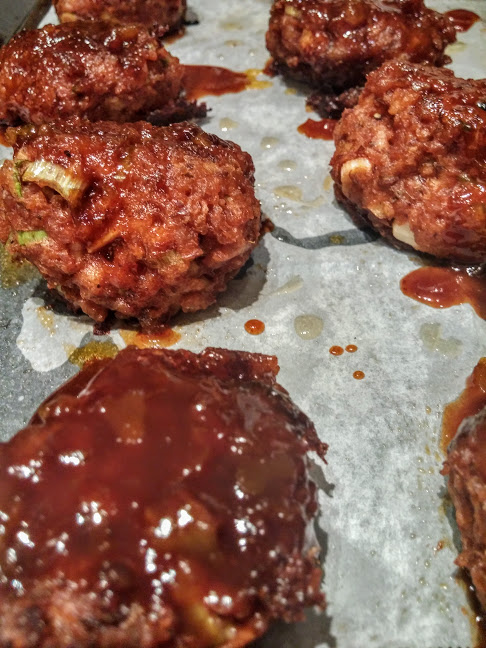 This super simple glaze is made of apricot preserves, Gochujang, rice vinegar and tamari.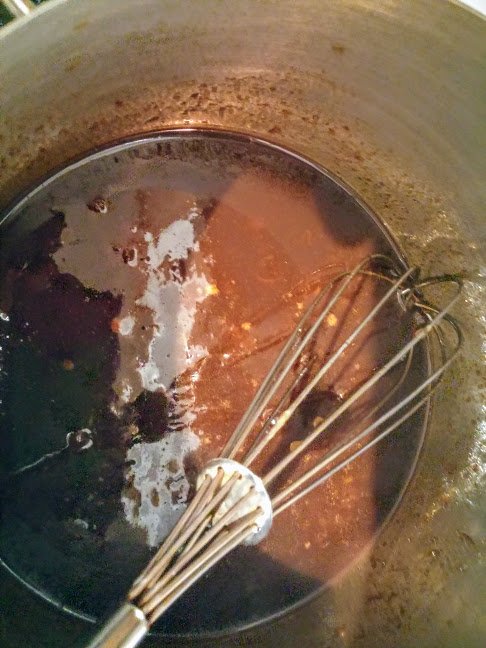 I piled these delicious Gochujang glazed meatballs onto a pretzel bun and topped it with a generous amount of my own Bootleg Kimchi.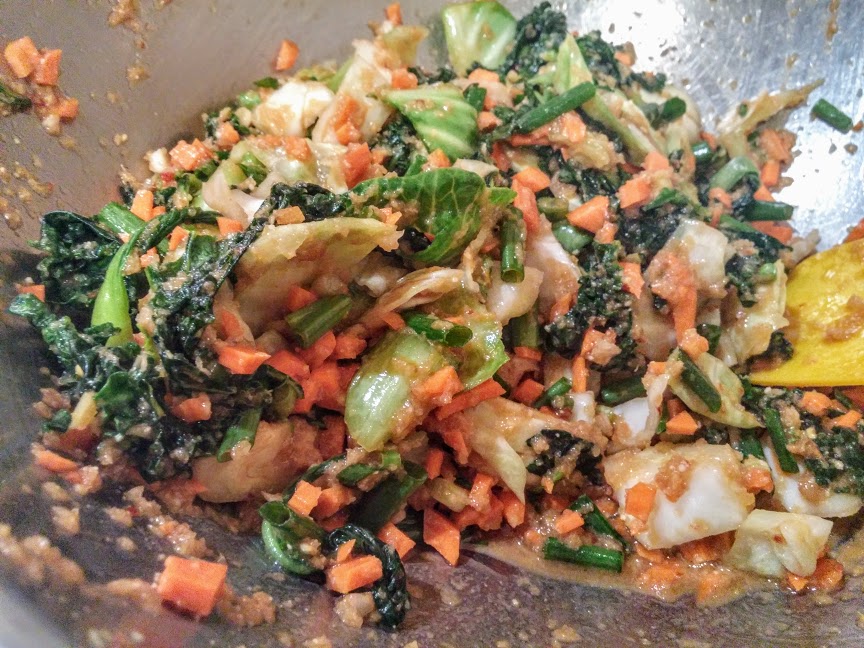 My easy, peasy Bootleg Kimchi is a delicious mix of green cabbage, kale, baby bok choy, tamari, pineapple juice, ginger, onion, white miso, carrots, green onions and Sambal Oelek. It's not really Kimchi but it's got that Kimchi flavor profile going on! Believe me, no one was complaining about my Bootleg Kimchi when I brought this Korean Barbeque Meatball Sandwich to the table.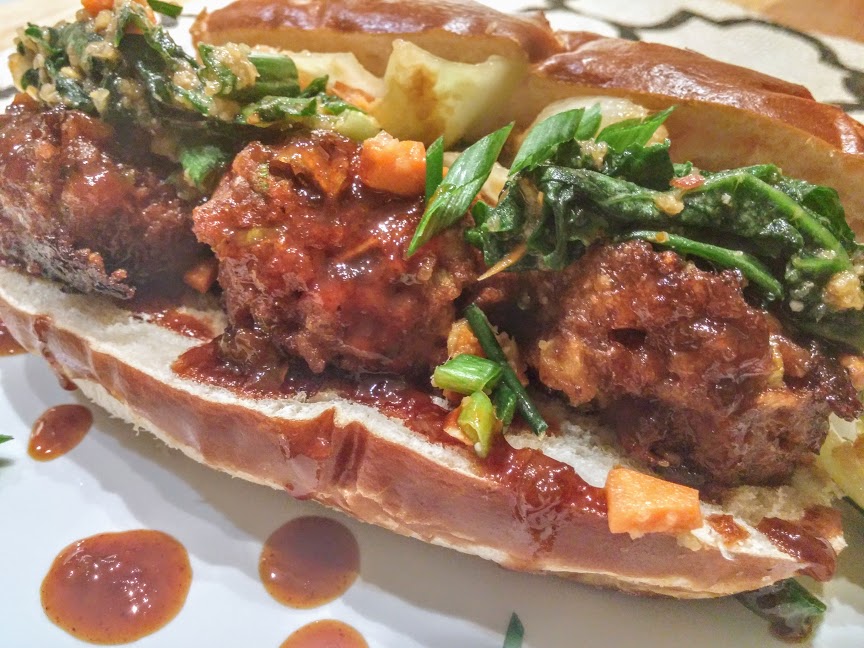 Once you get a taste of this sandwich, you'll understand why my dear Hubby just couldn't wait to get his hands on this sandwich! And, it was well worth the wait!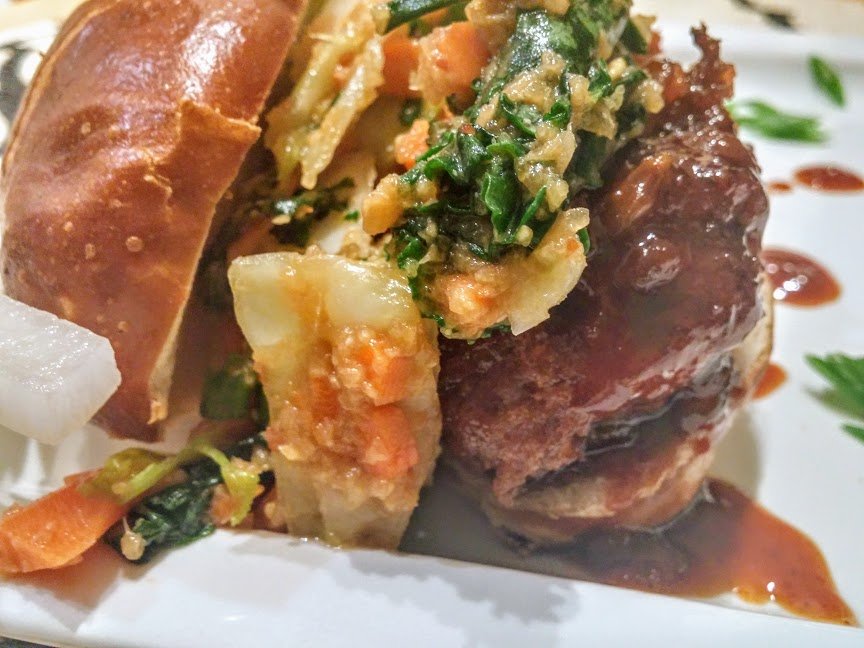 Print
Bootleg Kimchi
My easy, peasy Bootleg Kimchi is a delicious mix of veggies. It's not really Kimchi but it's got that Kimchi flavor profile going on! This recipe was inspired by the delicious Kimchi served up by Chef Julia at Nourish Charlotte and by a recipe I saw on Minimalist Baker.
Ingredients
1/4 green cabbage, cored and roughly chopped
2 cups kale, stemmed and roughly chopped
2 baby bok choy, roughly chopped
2 TB Kosher Salt
2 TB Tamari
1/4 c Pineapple Juice
1/4 c Warm Water
3 T Fresh Ginger, peeled and finely diced
1 small white onion, chopped
2 TB Organic Miso
2 TB Sambal Oelek
1 Medium Carrot, peeled and finely chopped
4 Green onions, sliced (separate the white and green parts)
Instructions
Put thoroughly washed and prepped cabbage, kale, baby bok choy and green onion tops into a large bowl. Sprinkle with salt and lightly massage greens to incorporate salt. Weight the greens down with a plate and let them hang out for 30 minutes to an hour.
In a separate small bowl, whisk together the tamari, pineapple juice and warm water. Set aside.
Meanwhile, in a blender or food processor (personally, I prefer using the blender) place ginger, onion, miso, Sambal Oelek and the white parts of the green onions. Add the tamari mixture and pulse to combine. Then blend for 30 seconds to 1 minute to make sure the items are completely incorporated. Set aside.
Drain all liquid off the cabbage mixture (you'll likely have about 1/2 cup of liquid). Rinse the cabbage mixture and pat dry with a clean kitchen towel. Return to large bowl. Pour the mixture from the blender over the cabbage mixture and massage gently to mix.
Taste for season and adjust as desired.
Place your Bootleg Kimchi in a clean jar and refrigerate until ready to use. (This keeps for about a week in the fridge.) It gets more tart, the longer it stays in the fridge.
Notes
I prefer Miso Masters brand of Miso. But, as always, use your favorite brand of miso.
You can find Sambal Oelek at most grocers, or even at your local WalMart.
Print
Vegan Korean Barbeque Meatballs
These meatballs are full of flavor, heat and just a hint of sweetness! Perfect as cocktail meatballs or pile them on a pretzel bun, drizzle on some extra Gochujang sauce, heap on some Bootleg Kimchi! Got to get me some!!
This recipe was adapted from a recipe found on Food52.
Ingredients
For the Meatballs:
3 green onions, very thinly sliced
2 garlic cloves, minced
2 flax eggs (See notes below)
1 lb. Beyond Meat Beyond Burgers (two packages)
1/2 – 3/4 c. Panko
2 TB Gochujang
2 TB fresh ginger, peeled and minced
1 tsp sea salt
1/2 tsp ground black pepper
2 TB Organic Canola oil
For the Glaze:
2/3 cup Apricot Preserves (I used a brand with reduced sugar)
4 TB Gochujang
1/4 cup Rice Vinegar
2 TB Tamari
Garnish (if desired)
Sliced green onion tops
Toasted Sesame Seeds
Instructions
Preheat oven to 350 degrees.
In a large bowl, gently combine all meatball ingredients, except canola oil. Be careful not to overmix. If your meatballs seem too moist, add a tablespoon of panko at a time until you get the right consistency. You want your meatballs to be able to hold their shape.
In a large frying pan, heat oil over medium heat. Add a few meatballs at a time and brown on all sides. (Because these delicious meatballs are plant-based and not animal-based, if you choose to omit this step and the required oil…, that's okay.)
Transfer meatballs to a parchment lined baking sheet and bake for 10 minutes.
Meanwhile, in a small saucepan, combine all glaze ingredients. Cook over medium heat for 5 -7 minutes or until slightly thickened.
Brush meatballs with glaze and garnish as desired.
Notes
For each flax egg you'll need 1 Tbsp flaxseed meal (ground raw flaxseed) and 2 1/2 Tbsp  water. Add flaxseed meal and water to a dish and stir. Let rest for 5 minutes to thicken. Add to recipes in place of 1 egg.